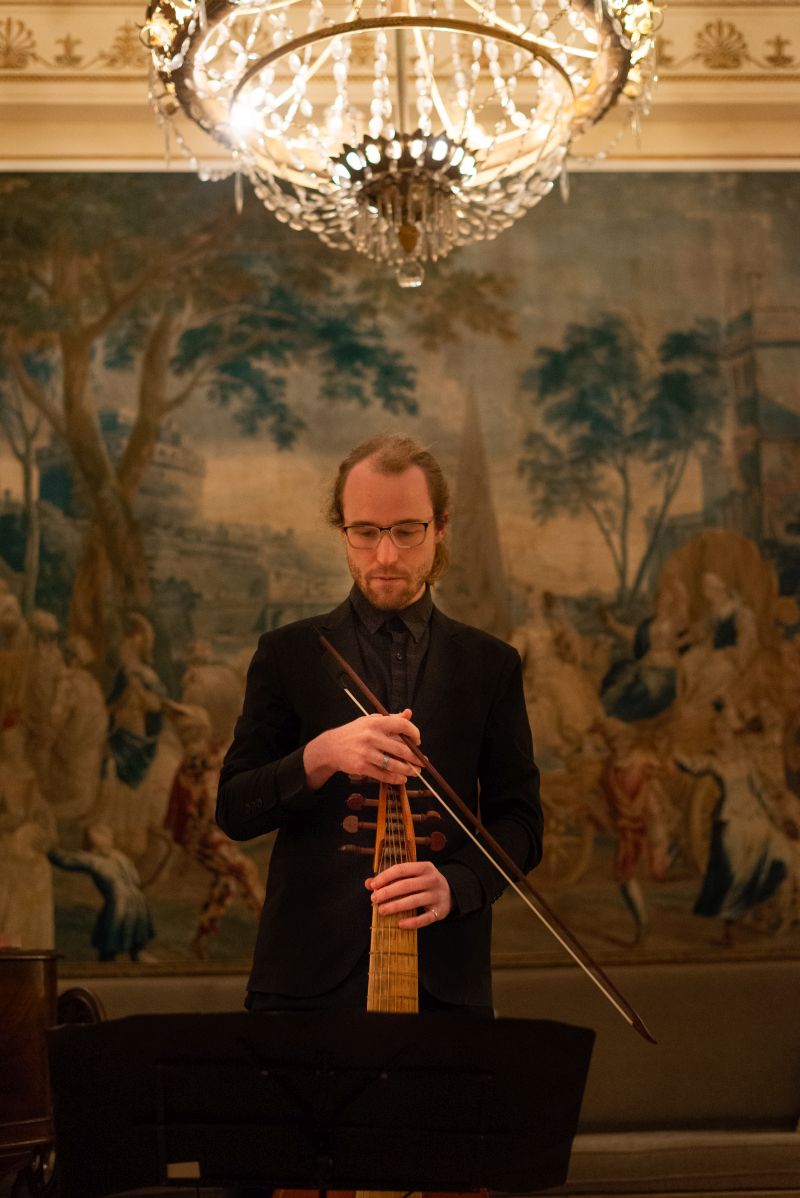 Harry Buckoke
 
Harry came to the viola da gamba somewhat diagonally, first studying English at the University of Cambridge, then Aesthetics at New York University before having lessons with Paolo Pandolfo at the Schola Cantorum in Basel. 
He is a PhD candidate at the Orpheus Institute in Ghent working on accompanimental practices on the viola da gamba with a focus on intabulation and bass line realisation.
 
A keen chamber musician, Harry is a member of Apollo's Cabinet who recently won both the Göttingen International Handel Competition and the Maurizio Pratola Competition, and of Lux Musicae London, and Dramma Per Musica and performs with Fair Oriana, Ensemble Augelletti, and with the Chelys and the Fieri Consort.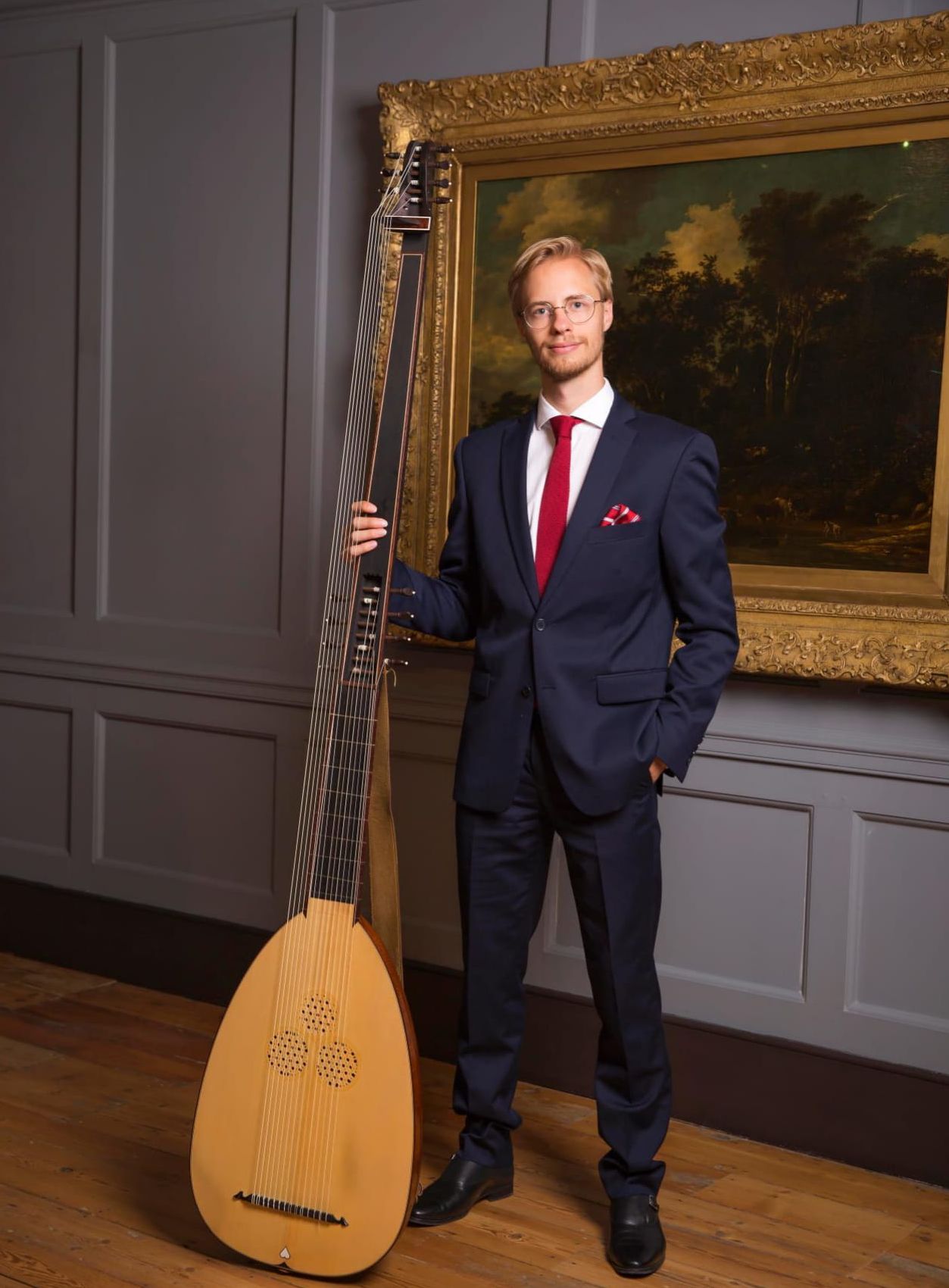 photo: Credit Handel & Hendrix House Museum in London Sandra Vijandi
Jonatan Bougt

Award winning Swedish guitarist and theorbist Jonatan Bougt is a graduate of the Royal College of Music (RCM), London, where he studied with Jakob Lindberg, Carlos Bonell and Chris Stell as an RCM Scholar supported by the Musician's Company Lambert Studentship.
He completed his Master of Historical Performance degree with Distinction in 2019 and holds a First Class Bachelor of Music (Honours) degree, graduating in 2017. During his studies, hewas the 1st Prize winner of the RCM Guitar Prize (2017) and the RCM Historical Performance Competition (2019), receiving The Century Fund Prize and The Richard III Prize. In 2021, Jonatan was awarded the 1st Prize in the NORDEM 2020 EAR-ly competition, for his "graceful playing, stage presence that leads the listener to the music" and for his "elegant and natural way of playing as well as understanding of style and musical rhetoric".

Jonatan has been selected as a Young Artist on the 'Britten Pears Young Artist Programme'(2018), 'BREMF Live!' (2018/19) and 'Handel House Talent' (2019-21). Other noteworthy awards include the 1st Prize in the Swedish Guitar & Lute Society's Jörgen Rörby Competition (2014) and the 1st Prize in the Uppsala International Guitar Festival's Young Talents Competition (2013).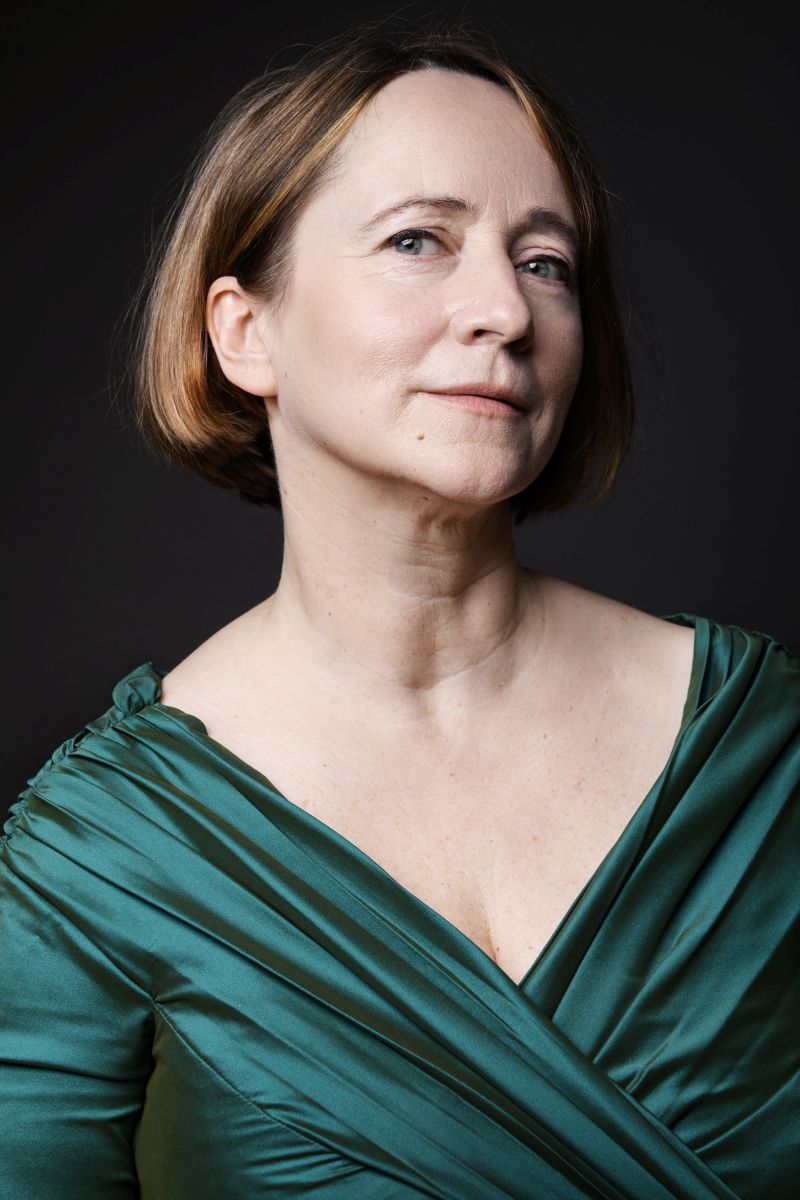 Witosława Frankowska
Chamber musician, ethnomusicologist, and graduate of the Faculty of Music Theory and Composition at the Academy of Music in Gdańsk. In college, she developed an interest in early music, especially playing basso continuo on the harpsichord and organ. Supported by her practice in the early music class taught at the Academy of Music in Gdańsk by Ewa Stąporek-Pospiech, she began a collaboration with the Cappella Gedanensis. She has taken part in many master's courses under the auspices of the International Summer Early Music Academy in Wilanów and in Bad Lauchstädt. 
Since 1993, Witosława Frankowska has been working at Gdańsk's Academy of Music Faculty of Vocalism and Acting, where she runs classes that prepare young singers for practical Baroque repertory performance. She also works with the Polish Chamber Philharmonic Orchestra Sopot, Polish Chamber Choir, Crown Tribunal Orchestra, Progress Chamber Orchestra and many distinguished Polish soloists. She took part in preparing and performing several Baroque operas, oratorios, masses, passions and cantatas in Poland and internationally. 
In 2013 she received her PhD in humanities with honours at the Institute of Art of the Polish Academy of Sciences in Warsaw, and in 2018 her postdoctoral degree in art, specialising in instrumental studies, at the Grażyna and Kiejstut Bacewicz University of Music in Łódź.
Besides early music, Witosława Frankowska also has a fondness for the broadly-understood music culture of her home region. She has written musicological entries for the Muzyka Kaszub [Music of Kashubia] lexicon (2005), Słowniku symboli, pamięci i tradycji kultury. Gniazdo Gryfa [Griffin's Nest. Dictionary of Symbols, Memory and Cultural Tradition] (2020) and the monograph  Kolędowanie na Kaszubach [Carolling in Kashubia] (2015); since 2002, she has been running her series of concerts called "Meetings with the Music of Kashubia at the Museum of Kashubian and Pomeranian Literature and Music in Wejherowo. Laureate of the Stolem Medal.